A Yes-or-No Answer by Jane Shore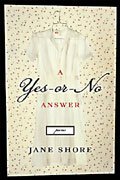 Jane Shore writes deliberately. She avoids fluff and pomp. Jane eases words together and creates a relaxing look at human habits.
A Yes-or-No Answer
is her most recent work. These poems gather up hunger, loss, patience and monotony to leave a lasting impression of goodness and fulfillment. My favorite poem in this collection,
Scrabble in Heaven
, brings together family and after-dinner dreams. It explores loss through the familiar and gently caresses the reader into understanding the height of human life.
Scrabble in Heaven
They're playing Scrabble in heaven
to pass the time, sitting at their usual
places around the table --
or whatever passes for a table there --

Check out this new collection of poems, which offers a surprising simplicity that will relieve you of the day's trouble as you settle down with family and friends this holiday weekend.
Keep reading!