Best American Poetry 2007 & Best New Poets 2007
Okay it's a new year and a lot of people are looking forward to achieving weight-loss goals or moving beyond last year's challenges to embrace this year's opportunities. That's nice. But looking back can give us a great idea of what to expect. And just think of all we can gain by reading the past.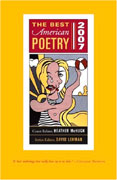 Two poetry anthologies published last year,
Best American Poetry 2007
and
Best New Poets 2007
can satiate readers starved for poems that aren't self-conscious or too proud.
Best American Poetry 2007
, guest edited by Heather McHugh, earns the superlative in its title. Some editors select the most diverse or politically soft poems for anthologies; McHugh shuns second-rate poetry in this collection. Rather than concede to writer's egos or well-connected poets, this anthology contains widely-read and lesser known writers who contribute stinging and stunning voices to U.S. poetry. McHugh's high standards have produced a collection that includes Louise Glück and the Roberts (Creely, Haas, Pinsky).
Best New Poets 2007
, guest edited by Natasha Trethewey, introduces fifty emerging poets who have not published a book length of poetry. Most poets included in this edition are MFA candidates, but this isn't your basic workshop poetry. You won't find hackneyed writing polished in form, but retaining the taste of brass. These poems are exciting and reinvigorating – breathing new life in verse.
Anthologies are an easy way to diversify your poetry interests and these books ensure you don't waste any time wincing through mediocre poetry.